Mesa College

Stem Core
Science
Technology
Engineering
Math
Want to finish trigonometry, pre-calc & calculus all in one year?
2022-23 STEM Core application is closed.

2022-2023 PATHWAY / SUGGESTED COURSES
Students will enroll in LCOM116 (7 units/CRN#15802) which contains the MATH116/MATH104 and MATH15C in the following timetable.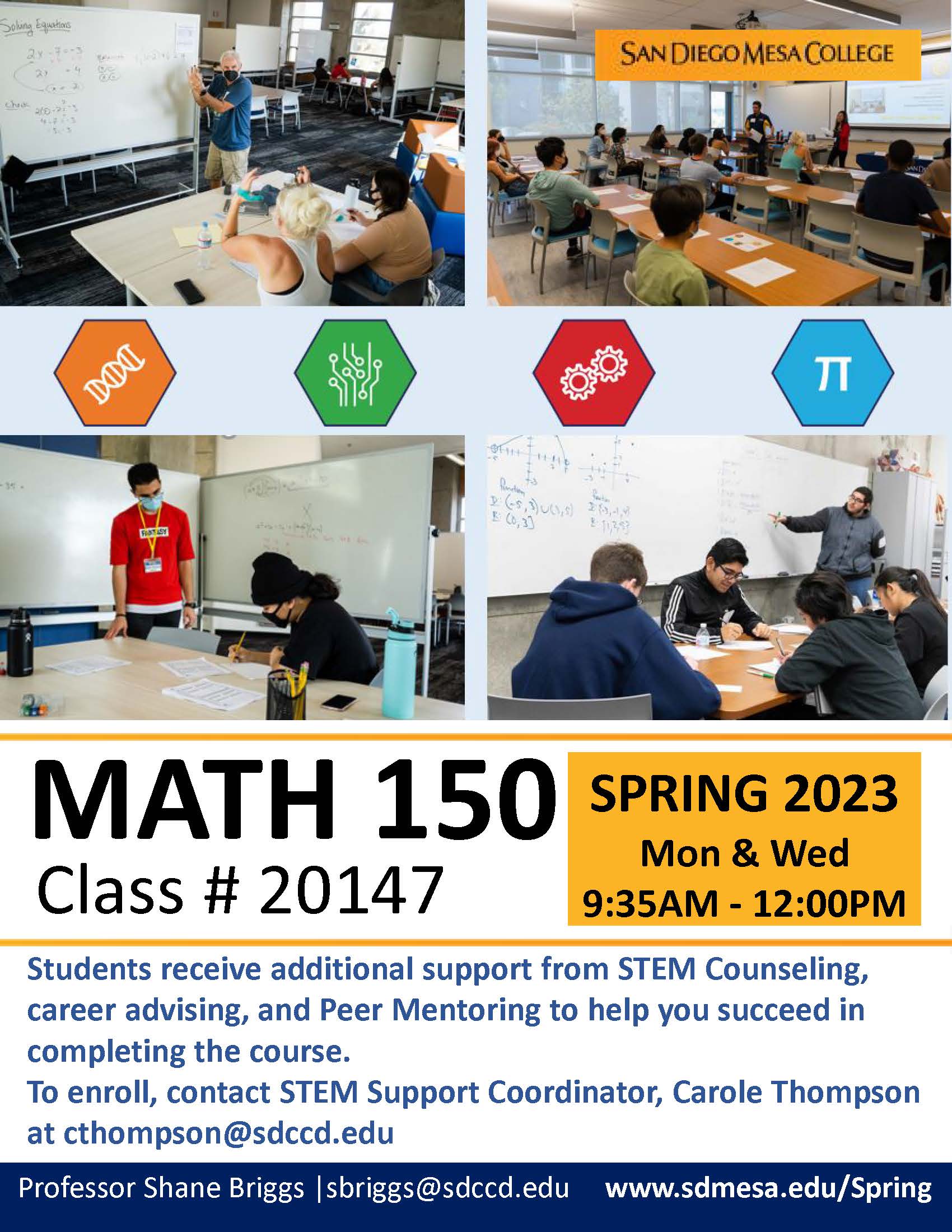 ---
Are you interested in pursuing a Science, Technology, Engineering or Math (STEM) degree, but think you're not ready or don't know where to start?
STEM Core is a one-year STEM-preparatory program with an emphasis in math, designed to help students finish pre-requisite courses in order to major in the sciences. As a STEM Core student, you will become a part of a learning community that will provide STEM counseling, career advising, tutoring, and one-on-one support to get you ready to pursue a STEM degree.
When you become a STEM Core student, you take a set of courses during your first year that prepare you for higher-level science and math courses. Hispanic, low-income, and/or first-generation college students are particularly encouraged to apply. Students are required to participate in career exploration activities (e.g., workshops, job fairs, field trips, etc.) coordinated by the STEM Core team.
Upon completion of program requirements, students may be eligible for paid summer internships with a STEM employer.
---
testimonials
Volunteering for STEM activities has positively impacted my college experience because the information I have taken in from the activities has been useful to my scientific approach in the classroom, labs in particular. The STEM activities have helped me clearly communicate to diverse audiences the steps on how to execute an experiment. Now, not only am I able to follow along in the classroom I am able to help others when I am approached with detailed questions because I have a more comprehensive knowledge on different areas of science experimentation (Spring 2021).

The STEM cohort is extremely valuable where all the classes keep the same students. This way as we move forward in the year, as peers we can support each other and become familiar with each other. I also believe the accelerated nature of the math classes is giving me an opportunity to make up for a lack of progress in high school (Fall 2020).

I've found a great connection with Mesa because of the resources it has offered makes me feel more secure (Fall 2020).

I feel like I have grown a lot since joining STEM core. It's really helped me develop the skills I need to succeed as a college student (Fall 2020).
---
Contact us to learn more about how to become a part of the stem core!
---
Patricia Rodriguez

Carole Thompson

Pavel Consuegra

STEM Core

Internship Coordinator
---
Resources
STEM Core Cohort Profile and Fall Outcomes Data Adhoc Report: 2020/21
STEM Core Three Year Program Report: 2017/18 - 2019/20